ENT
Ent. I am the tree-man. I am rooted deep and hard to move. I am steadfast. The lesson you learn from me is the enduring one. I can sway with the wind, but I stand tall forever. I may bend, but never do I break. Some call me slow. Some think I am not alive. But I do live, I do feel. Even through my thick bark, I know the wind and the rain as well as the sun and the moon. I feel the Earth around my roots and I feel the Heavens with my leaves. I unite worlds. Without moving I reach many. Come talk to me, I will calm you. But don't think I'm dull. The life force runs strong in my sap. There is passion in my leaves, they mourn the loss of the sun in the fall and rejoice with new life in the spring. I am about earthly seasons. I have seen many, and each year they turn I see them anew. So look at the world with fresh eyes. Revel in its splendor. Feel the life of the Earth, it is within you as well as me. The life of the Earth is long lasting, it accepts the changes upon its surface. Let life flow around you, but be firm in your beliefs do not blow this way and that like a kite without a string. Keep your anchor, keep your convictions.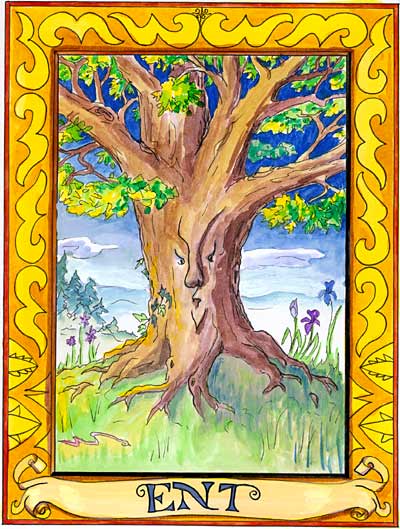 Look into my eyes, little one
Here I am and here I stay
While all your ages melt away
Older than the age of man
Tell you your history, I can
I feel the life of planet earth
Of sun and rain I feel no dearth
Each day is the world renewed
Season to each season wed
Yet man forgets and takes his toll
'til even I walk with weary soul
changes coming far too fast
will even I succumb at last?


Text and layout by Jocelyn VanBokkelen
Art by Liz Manicatide
Copyright ©2002 Jocelyn VanBokkelen