Kinney Hill Farm Horses:
Board rates and services
Riding Instructors/clinics

Far Acres Organic Farming:
Organic farming
Healthy, low-impact living

Healing/Arts/Energy/Animals:
Reiki, Wicca,
Animal & spirit communication
Medicine of mythical creatures

The Sacred Flame
Links to other sites
Poetry


What do horsemanship, ecological responsibility, energy healing, and spirit communication have in common?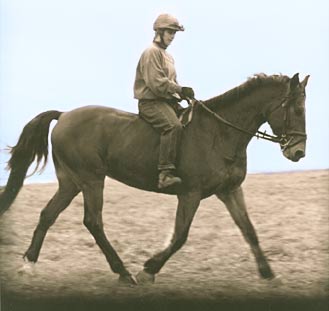 Photo: Doug Garrabrants
Usually not much, but they are all skills which continue to pursue me. Yes, I do mean that they follow me. They have followed my spirit from before this incarnation, and recognizing that, I have chosen to develop these skills so as not to be overcome by them.
If your interest is in horses and Kinney Hill Farm's business of boarding same, you want to go here for facilities, services and rates. You will also find a list of preferred riding instructors and horse related websites.
Far Acres Farm has also raised certified organic, pasture raised beef, pork and chicken. Our small herd of rare Dexter cattle was registered with the American Dexter Cattle Association. This very diminutive breed of cattle provides an average family with a year's worth of beef from one steer, as opposed to twice that from conventional beef breeds.
If you are interested in what you can do to be an ecologically responsible consumer, here you will find links to valuable organizations and some of my personal recommendations for conducting your life in harmony with Mother Earth as well as my arguments for making careful choices when buying anything.
Now, if you want to know WHY the above topics interest me, here is a very abbreviated biography and discussion of my intuitive nature, which includes my involvement with Reiki, Wicca, and Animal and Spirit Communication.

In conjunction with my psychic work I have channeled a body of information which I call The Medicine of Mythical Creatures. This is a tool both for divination, similar to Tarot cards, and to help understand images encountered in dreams and meditations.
My ex-husband, James, at his web page, has information on his home solar electric system, wind generator, and solar hot water systems and the related modifications we made to the home he now lives in to accommodate being 85% independent from the electrical grid. He also has extensive information on both of our families' genealogy.