Far Acres Farm Horses:
Board rates and services
Riding Instructors/clinics

Far Acres Organic Farming:
Organic farming
Healthy, low-impact living

Healing/Arts/Energy/Animals:
Reiki, Wicca,
Animal & spirit communication
Medicine of mythical creatures

The Sacred Flame
Links to other sites
Poetry


Far Acres Farm and the
Kinney Hill Equestrian Facility
Facility:
10 large and airy box stalls in a half-circle around service areas.
90 ft x 180 ft indoor arena with shredded rubber footing.
9 one-acre pastures and 4 smaller turnout areas.
50 acres of hayfields, open for riding after June.
Access to miles of trails on adjoining properties
Staff:
I, as operations manager, oversee staffing and supplies issues, as well as working two days per week as the primary horse-care giver. I am a "B" level graduate from The United States Pony Clubs and former competitor in the areas of Dressage and Eventing.
Barn Manager, Katrina VanBokkelen, has a lifetime of experience riding and caring for horses, works full-time to ensure the health and safety of our very special residents.

Working boarder, Elaine Rose, had boarded her horse, Salem, with us since our opening in 1995. Elaine has ridden and worked in many stables before coming to us and is very through and conscientious.
In the winter we usually hire and train a part-time individual to help with chores.
Horse care philosophy:
Both Katrina and I strive to maintain the facility for the well-being of the horses. We are firm believers in as much turn-out time as the weather allows to ensure the mental health of our charges. Both of us keep our own horses at the facility and treat the boarders as well, if not better than, our own. While we do change blankets, and apply boots as necessary, we do expect that the boarded horses be visited, ridden, and groomed regularly by their person. Many of our owners report that their horses become quieter, easier to handle and happier after being with us for as little as two months.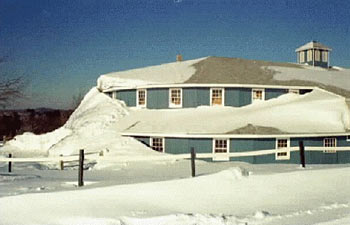 Services and rates:
Feed:
We generally feed grain twice a day and hay three times or more depending on the weather or need. All of our hay is produced on the farm on fields that are never chemically treated. We prefer to feed grain from Poulin Grains' Sprint line of horse feeds, but will get other grains depending on the needs of the individual horses.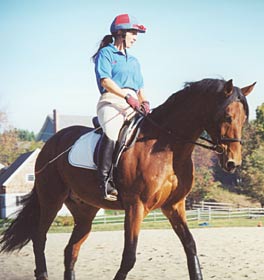 Activities:
We generally do not have "scheduled" activities. Boarders are encouraged to take lessons from the instructor of their choice. It is in individuals' best interest to write their lesson times on the calendar to prevent overlapping instructors. We do reserve the right to deny access to an instructor or truck-in rider if we feel that our safety standards are not being met.

Recommended Instructors:
Click here to see a list of instructors that either currently visit the farm to teach or have taught here in the past.
Liability:
All Boarders sign a boarding agreement which includes a release of liability. All truck-ins, visiting instructors, and anyone else who gets on a horse at the facility must sign our release form.
Barn Rules:
Yes, we have them! ASTM approved safety helmets MUST be worn when mounted at all times. Clean up after yourself. Click here for the rest of the rules.