ELF
I am Elf. I live in the wood and the trees. I am of the earth, yet my forms are many. I could trick you and slip away, so hard am I to see. But this time I won't. Love the land, make things grow. Cultivate your garden and harvest the fruits of your labors. Be diligent. Let the wilds that remain be wild, but go there and see the wildness of my nature. I am diversity of growing things. Some of my things have so long been taken out of context that they can only continue to exist in cultivation. Do not let them die. Keep my magic alive. I will appear to help in your garden if you help my earth spirit to live. I am a hard worker and I help others who work hard with the land.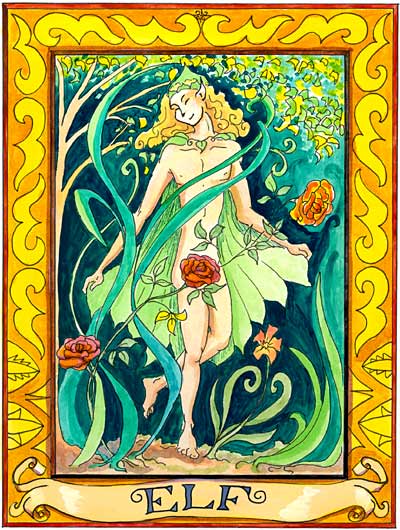 My feet spring soft, o'r the earth
Leaving green growing where'er they go
Silent am I, and rarely seen
Save by those whose eye is keen
And hand is turned toward the earth
Who toil on when others despair
To bring balance in repair.










Text and layout by Jocelyn VanBokkelen
Art by Liz Manicatide
Copyright ©2002 Jocelyn VanBokkelen